NEWS & EVENTS
It all happens here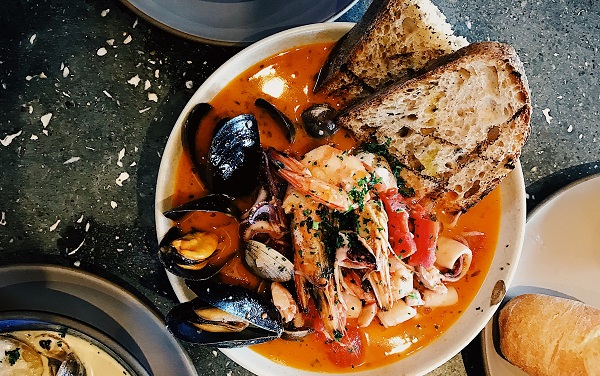 May 18, 2023
Legal Sea Foods, Sullivan's and More Seafood Restaurants to Try This Summer in King of Prussia
SHARE >
Hungry for the freshest seafood in King of Prussia? Here are three seafood restaurants to check out this week near Omnia.
Legal Sea Foods
Address: 680 W Dekalb Pike King of Prussia Mall, King of Prussia

Located in the renowned King of Prussia Mall, Legal Sea Foods stands as a beacon for seafood lovers. With its commitment to freshness and quality, Legal Sea Foods has been a go-to spot for locals and visitors alike. Their menu boasts an impressive variety of oceanic delights, including succulent lobster, buttery scallops, and perfectly grilled fish.
From classic New England clam chowder to the famous Legal Sea Foods' clam bake, each dish is prepared with meticulous attention to detail. The restaurant's inviting ambiance and attentive service further enhance the dining experience, making it a favorite destination for seafood connoisseurs. Learn more about Legal Sea Foods.
Sullivan's Steakhouse
Address: 700 W Dekalb Pike, King of Prussia

While Sullivan's Steakhouse is primarily known for its exquisite steaks, it also offers a remarkable seafood selection that should not be overlooked. Situated on Mall Boulevard, Sullivan's Steakhouse presents an elegant and sophisticated setting where patrons can indulge in culinary treasures from the sea.
heir seafood offerings include fresh oysters, Alaskan king crab legs, and sumptuous shrimp cocktail. Whether you prefer your seafood grilled to perfection or accompanied by their signature sauces, Sullivan's Steakhouse guarantees a memorable dining experience that marries the best of land and sea. Learn more about Sullivan's Steakhouse.
Seasons 52
Address: 160 N Gulph Rd #101, King of Prussia

Tucked away in the bustling King of Prussia Town Center, Seasons 52 prides itself on serving flavorful, health-conscious dishes using seasonal and sustainable ingredients. While their menu encompasses a range of culinary delights, their seafood offerings truly shine.
From oak-grilled sea bass to cedar plank-roasted salmon, each dish at Seasons 52 reflects a harmonious blend of quality ingredients and vibrant flavors. The restaurant's commitment to freshness and innovation is further exemplified by their ever-changing seasonal menu. With its inviting ambiance, knowledgeable staff, and dedication to culinary excellence. Learn more about Seasons 52.

< Back