NEWS & EVENTS
It all happens here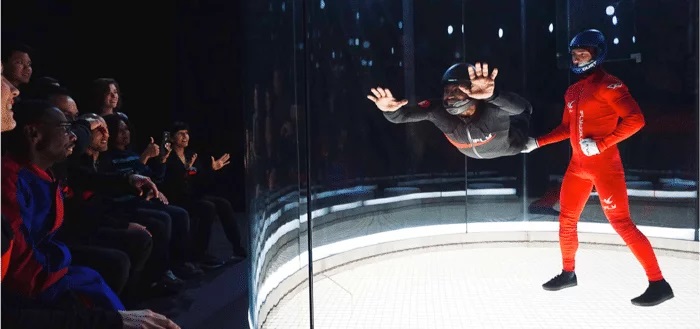 July 26, 2023
Beat The Heat: Indoor Activities to Discover This Summer in King of Prussia
SHARE >
Looking for indoor activities to experience while avoiding the heat this summer in King of Prussia? Look no further. Here are three indoor activities to discover this summer in KoP.
iFLY Indoor Skydiving
Address: 290 Goddard Blvd., King of Prussia

Experience the thrill of skydiving without the heat at iFLY near King of Prussia, PA. This indoor vertical wind tunnel allows you to defy gravity and float effortlessly in a safe environment. Whether you're a first-time flyer or a seasoned pro, iFLY offers an exhilarating adventure suitable for all ages, making it a perfect escape from the summer sun. Learn more about iFLY King of Prussia.
The Escape Game
Address: 160 N Gulph Rd., STE 4230, King of Prussia

Immerse yourself in a world of mystery, puzzles, and excitement at The Escape Game, conveniently located near King of Prussia, PA. Gather your friends or family for an unforgettable indoor adventure where you must work together to solve challenges, find clues, and ultimately escape the themed room within a time limit. Beat the heat and test your problem-solving skills in this thrilling escape experience. Learn more about The Escape Game.
Bury the Hatchet Axe Throwing
Address: 1020 W 8th Ave, King of Prussia

Unleash your inner lumberjack and beat the summer heat with some indoor axe-throwing fun at Bury the Hatchet near King of Prussia, PA. Feel the rush as you hurl axes at targets under the guidance of skilled instructors. Whether you're a beginner or a seasoned axe-thrower, this unique and exciting activity promises a cool and memorable time for everyone involved. Learn more about Bury the Hatchet Axe Throwing.

< Back